Medieval Colonnette Rollerball Pen by Metropolitan Museum of Art®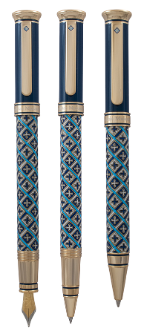 Click to enlarge image(s)
By about 1300, the city of Cologne held Germany's largest urban population and one of its most prolific artistic centers. Brilliant enamels from 12th-century Cologne bear witness to the importance of the church in the cultural life of the city. A group of medieval enamels in the Museum's collection were once part of the massive shrines that lavishly decorated the interiors of Cologne's churches; some of these fragments resemble small-scale door arches, columns, and capitals. Adorned with intricate champlevé enamel, a colonnette, or miniature column, from this group was made in Cologne about 1175-1200. This richly decorated colonnette is the basis for our handsome pen design.
The Medieval Colonnette fountain pen has a medium German made gold plated bi-color nib and comes with a standard cartridge and convertor. Both fountain pen and roller ball have twist caps. The ball pen twists to open and close. The roller ball and ball pen take standard refills.
Metropolitan Museum of Art® authorized retailers must list all Metropolitan Museum of Art® writing instruments at their MSRP...NO discounting from the MSRP is allowed.
Should you see a price advertised below the MSRP required by Metropolitan Museum of Art®, you may not be dealing with an authorized retailer.
| | |
| --- | --- |
| RB refill: | takes "universal" rollerball refills |
| RB refills recommended: | Schneider® Topball 850 05, Schmidt® 888/5888/5285,Quill® 9550/9552 |
| | |
| --- | --- |
| In stock: ONE | |
| Last of our inventory. No new orders/quantities will be accepted | |
| FREE S&H on all orders totaling $70.00 or more. | |