V-Mail Operation Overlord Orange Fountain Pen Bottled Ink 3 oz from Noodler's Ink®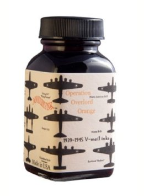 Click to enlarge image(s)
Noodler's Ink obtained some dated, sealed, and viable vintage area inks with extremely patriotic labels (this, to us - is a rare opportunity to examine earlier industrial history first hand!). Many referenced "V-mail", a term that seems to have begun in WW I. These were dated from 1939 to 1945 and of course began in earnest after Dec. 7th, 1941 with the patriotic WW II themes. With those inks as models and a little bit of reverse engineering and close modern replication. The originals come alive again in our own "V-mail" ink series: -North African Violet, -Operation Overlord Orange, -GI Green, -Mandalay Maroon, -Burma Road Brown, -Rabaul Red, -Midway Blue. The Army Air Corp. and some Royal Airforce planes are silhouetted on the labels.
-Water Resistant: This ink resists the effects of water.
-It may still smear, discolor, or run slightly if exposed to water, but anything written with it will remain legible
-As this ink, as all Noodler's Inks, is hand made in small batches and therefore the colors can vary slightly from bottle to another
Buy from an Authorized retail dealer only and with confidence. We sell new products only. Quality guaranteed by Noodler's Ink.
As a certified retailer for Noodler's Ink® I am able to only list their products at their recommended MSRP or allowed discount. Other certified retailers of this manufacturer are given the exact same guidelines. Should you see prices under the MSRP, I would caution you as to whether or not you are receiving an item from a certified retailer of this manufacturer. Purchasing items from non-certified retailers may invalidated your guarantee. However, only the manufacturer can address that issue with certainly. Remember buying below MSRP or our authorized discount price may not actually represent a "savings".
| | |
| --- | --- |
| bottle size: | 3 oz glass bottle |
| Noodler's Ink color sampes url: | http://www.noodlersink.com/samples.html |
| Noodler's Durable Ink Classification: | http://www.noodlersink.com/benefits.html |
| manufactured: | 100 % in the U.S.A. |
| all new inventory will be in PLASTIC bottles: | a little more than 3 oz per bottle; no increase in price! |
| | |
| --- | --- |
| In stock: ONE | |
| If not in stock, will be a special order item so allow 2-3 weeks to receive once order is placed. Subject to availability | |