Heart of Darkness Bottled Ink 4.5 oz from Noodler's Ink®...free eyedropper FP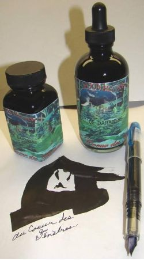 Click to enlarge image(s)
Presenting fountain pen ink a bottle with eye dropper from Noodler's Ink. Some, not all, come with free dropper-fill fountain pens. 4.5 oz. size.
Noodler's Ink® has manufactured inks with various properties. Any ink might have or not have the following
characteristics: "eternal", "forgery-resistant", "bulletproof", "water-resistant", "florescent", "lubricated" or
"freeze resistant". Each term is defined by Noodler's Ink®.
For specific ink properties, we will refer you to the following Noodler's Ink® url:
http://noodlersink.com/wp-content/uploads/2011/09/noodlers-ink-properties-2.pdf
Buy from an Authorized retail dealer only and with confidence. We sell new products only. Quality guaranteed by Noodler's Ink.
As a certified retailer for Noodler's Ink® I am able to only list their products at their recommended MSRP or allowed discount. Other certified retailers of this manufacturer are given the exact same guidelines. Should you see prices under the MSRP, I would caution you as to whether or not you are receiving an item from a certified retailer of this manufacturer. Purchasing items from non-certified retailers may invalidated your guarantee. However, only the manufacturer can address that issue with certainly. Remember buying below MSRP may not actually represent a "savings".
| | |
| --- | --- |
| eyedropper bottle ink size: | 4.5 oz |
| includes: | free Preppy eyedropper fountain pen |
| once Preppy runs out free pen will be: | the "Charlie" and it is 5" closed; 5 1/2" posted; 0.3 oz; instructions on how to fill are included |
| ink is "bulletproof"...according to manufacturer is impervious to: | water, bleach & light |
| safe for: | all fountain pens |
| manufactured: | 100% in the U.S.A. |
| | |
| --- | --- |
| In stock: THREE | |
| If not in stock, will be a special order item so allow 2-3 weeks to receive once order is placed. Subject to availability | |