Borealis Black 4.5 oz bottled from Noodler's Ink®....free eyedropper FP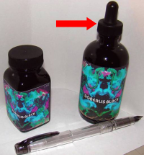 Click to enlarge image(s)
The label artwork depicts the Northern Lights in all their colorful glory because the ink absorbs their full spectrum. This is a conventional black ink from the 1950s, super smooth writing, shades well, and perfect for artists and calligraphers with fast flex pen work to do. It is water resistant on most paper grades - HOWEVER, unlike other grades of Noodler's Black (Standard Black, Polar Black, Heart of Darkness, and "X-Feather") Borealis is NOT a bulletproof black. What does that mean? This ink CAN be removed by several laundry detergents and carpet cleaners. It vanishes before bleaches. It is not considered fraud resistant (though still far safer than most ball point pens!). It is not resistant to heavy UV light exposure. It is simply a super smooth writing conventional black ink that still has the value added content of the 1950s which have been lost in many modern conventional inks.
Borealis is PH neutral and contains 4.5 ounces of ink per bottle. Also Includes a free fountain pen with purchase of the 4.5 oz ink bottle.
Buy from an Authorized retail dealer only and with confidence. We sell new products only. Quality guaranteed by Noodler's Ink.
As a certified retailer for Noodler's Ink® I am able to only list their products at their recommended MSRP or allowed discount. Other certified retailers of this manufacturer are given the exact same guidelines. Should you see prices under the MSRP, I would caution you as to whether or not you are receiving an item from a certified retailer of this manufacturer. Purchasing items from non-certified retailers may invalidated your guarantee. However, only the manufacturer can address that issue with certainly. Remember buying below MSRP or our authorized discount price may not actually represent a "savings".
| | |
| --- | --- |
| bottle size: | 4.5 oz |
| free eyedropper fountain pen: | the "Charlie" and it is 5" closed; 5 1/2" posted; 0.3 oz; filling instructions included |
| please note that Borealis Black is: | NOT waterproof/bulletproof |
| manufactured: | 100 % in the U.S.A. |
| | |
| --- | --- |
| Boreals Black 4.5 oz bottle: TWO | |
| All other quantities are special order items so allow 2-3 weeks to receive once order is placed. Subject to availability. | |
| FREE S&H on all orders totaling $70.00 or more! | |