Cinnamon Scented/Graphite Black Premium Bottled Ink by De Atramentis®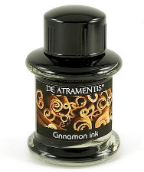 Click to enlarge image(s)
De Atramentis® by Jansen presents an extensive list of bottled ink colors for your review. I personally have never seen such an assortment available. Enjoy! This exclusive handmade ink is suitable for all fountain pens. The ink is produced on the basis of latest ink technologies and according to current regulations of the European Union. All inks have color and scent descriptions where known/given.
This is premium handmade bottled ink at its finest.
De Atramentis is a small family business, headed by Dr Jansen. He became passionate about inks after inheriting a family treasure in the form of a 17th century ancestor's Pharmacist's book detailing how to create inks. After four years of testing, the first inks were produced in 1995 with several hundred inks now in the range - and all still handmade.
Any fountain pen enthusiast, artist or ink lover is going to want to own several of these fantastic quality inks, as I do.

WARNING
As a certified retailer for De Atamentis® I am able to only list their products at their recommend MSRP. Other certified retailers of this manufacturer are given the exact same guidelines. Should you see prices under the MSRP, I would caution you as to whether or not you are receiving an item from a certified retailer of this manufacturer. Purchasing items from non-certified retailers may invalidated your guarantee. However, only the manufacturer can address that issue with certainly. Remember buying below MSRP may not actually represent a "savings".
| | |
| --- | --- |
| bottle size: | 45 ml glass bottle |
| ink scent/ink color: | Cinnamon/Graphite Black |
| | |
| --- | --- |
| Available: ONE | |
| If not in stock, all other quantities are special order item....allow 6-8 weeks to receive as order will need to come in from Germany. Subject to availability. | |