Skribent Gold Black Fountain Pens by Cleo Skribent®..18kt gold nib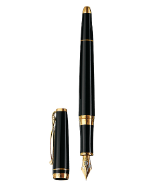 Click to enlarge image(s)
AS GOOD AS GOLD. Gold is one of the most valuable and beautiful materials in the world. This is why we have dedicated one of our fine writing instruments to this precious metal. The Cleo Skribent Gold. With its classic charm, it is suitable for everyday use as well as for special occasions. The cap alone is a tiny work of art. The perfect transition from the round shape to the square cap end will impress you as much as the fine gold-plated clip, which is shaped like a decorative clasp. Together with the gold-plated trim, the Cleo Skribent Gold is as good as gold



As a certified retailer for Cleo Skribent® we are able to only list their products at their recommended MSRP or allowed discount. Other certified retailers of this manufacturer are given the exact same guidelines. Should you see prices under the MSRP, I would caution you as to whether or not you are receiving an item from a certified retailer of this manufacturer. Purchasing items from non-certified retailers may invalidated your guarantee. However, only the manufacturer can address that issue with certainly. Remember buying below MSRP or our authorized discount price may not actually represent a "savings".

Guaranteed Quality: Each Cleo Skribent® product we sell is guaranteed to be genuine, authentic and will arrive brand new & unused!
| | |
| --- | --- |
| nib: | platinum-inlaid 18kt gold |
| series diameter: | 1/2" |
| weight: | 0.7 oz |
| length: | closed: 5 3/4"; posted: 5 3/4" |
| ink supply: | converter as well as will take std international ink cartridges |
| recommended FP bottled ink: | De Atramentis®, Noodler's Ink®, Parker®, Pelikan®, Private Reserve Ink®, Sheaffer® Skrip®,Waterman® |
| recommended FP ink cartridges: | MonteVerde®, Private Reserve Ink®, Schneider® 600, Sheaffer® |
| aka: | "Secundus".....older name of this series |
| | |
| --- | --- |
| ONE fine in stock | |
| Previously known as "Secundus" series | |
| Special order items [items NOT currently in stock] are requested from Germany every four weeks. | |
| It takes anywhere from 3 to 4 weeks for shipments to arrive from Germany so please be patient once your order is placed. | |
| Should you wish to be placed on a "waiting list" for any item, email us at passion4pensinfo@yahoo.com. You are obligated to pay for the item once it is in hand. | |