Chopin Silver Grid Fountain Pens by SZ Leqi® Paris [800 series]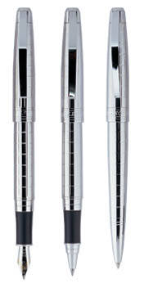 Click to enlarge image(s)
SZ.LEQI 800 Chopin Collection is a unique masterpiece for saluting to "the great
poet of the piano", Frederic Chopin.
This pen, combined with advanced computer carving technology, is carved full of classic
grid on the body, with 18K gold or platinum plated, as well on the top be
engraved with the individualized signature of Chopin. It is an elegant clip be
designed so slim and graceful, looks seem full of romantic, harmony and melodic,
likes from the music of Chopin. It is the perfect classic work for all of his admirers.
As a certified retailer for SZ Leqis® I am able to only list their products at their recommended MSRP or allowed discount. Other certified retailers of this manufacturer are given the exact same guidelines. Should you see prices under the MSRP, I would caution you as to whether or not you are receiving an item from a certified retailer of this manufacturer. Purchasing items from non-certified retailers may invalidated your guarantee. However, only the manufacturer can address that issue with certainly. Remember buying below MSRP or our authorized discount price may not actually represent a "savings".
We sell only new products.
| | |
| --- | --- |
| Chopin Silver Grid pen weight: | all about 1.0 oz |
| Chopin Silver Grid pen diameter: | 7/8" |
| fountain pen nib: | medium only; two tone |
| FP length: | closed: 5 1/2"; posted: 5 7/8" |
| fountain pen ink: | converter included; will also take standard international ink cartridges |
| recommended FP bottled ink by: | De Atramentis®, Noodler's Ink®, Parker®, Pelikan®, Private Reserve Ink®, Sheaffer® Skrip®,Waterman® |
| recommended FP ink cartridges by: | MonteVerde®, Private Reserve Ink®, Schneider® 600, Sheaffer® |
| | |
| --- | --- |
| SZ Leqi® Paris 800 Chopin Silver Grid Fountain Pen: FOUR in stock | |
| Last of the line...no more available. | |