Milano Kalahari Fountain Pens with chrome nibs by Osprey Pens®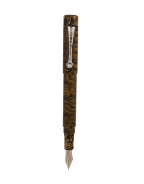 Click to enlarge image(s)
The Osprey Milano was designed as a simple no frills daily writer that balances ergonomics and aesthetics. Beautifully crafted with ebonite (hard rubber) in gorgeous colors, its modular design offers 8 inter-changeable nib units, including Zebra G super flex and the luxury 14K gold nib units! Nib Units are interchangeable between both the Scholar and Milano. The pen comes with a standard international cartridge converter system or it can be converted to Eye-Dropper.

The SE Acrylic Milano is part of our special edition models. Made from precious resin, these new acrylic Milanos are completely original and stunning.

Our 2018 Special edition Milano Fountain pens should be available through our Osprey Dealers soon

*Please note: For our special edition Osprey Milano models, we caution using this model in the eye-dropper mode as they are made from precious acrylic resin. Unlike ebonite, which is stain proof, the consumer runs the risk of stains. We are working on releasing our cartridge capable Zebra G and Osprey EF inserts for compatibility with the acrylic Milanos.

Measurements
Length (capped): 142.0 mm/5.59″
Length (uncapped): 127.9 mm/5.03″
Length (posted): 165.6 mm/6.51″
Diameter (barrel): 13.7 mm/0.54″
Diameter (section): 10.6 – 11.4 mm/0.41″ – 0.45″
Weight (all): 26 g
Weight (cap): 10 g
Weight (body): 16 g


Due to the acrylic resin in these pens, the manufacturer does NOT recommend use of the Zebra G Unit Nib at this time....expect an updated version in near future.



As a certified retailer for Osprey Pens® I am able to only list their products at their recommended MSRP or allowed discount. Other certified retailers of this manufacturer are given the exact same guidelines. Should you see prices under the MSRP, I would caution you as to whether or not you are receiving an item from a certified retailer of this manufacturer. Purchasing items from non-certified retailers may invalidated your guarantee. However, only the manufacturer can address that issue with certainly. Remember buying below MSRP or our authorized discount price may not actually represent a "savings".





| | |
| --- | --- |
| nib: | fine or medium chrome nibs |
| ink supply: | ink cartridge or converter ink converter included] |
| option nibs may be purchased separately: | standard #6 stainless steel nibs in broad and broad stub; Gold plated nibs in fine and medium as well as 14kt gold nibs in fine and medium |
| FP bottled ink recommended by: | De Atramentis®, Noodler's Ink®, Parker®, Pelikan®, Private Reserve Ink®, Sheaffer® Skrip®,Waterman®, Organics Studio® |
| FP ink cartridges recommended from: | Schneider® 600 ink cartridges, Quink ink cartridges by Parker®; ink cartridges from MonteVerde; Chromatic Ink cartridges from Caran d'Ache |
| will also take Flexpert Zebra G Unit with Filler: | purchase "FlexpertZebraGUnit" |
| gift box: | included |
| | |
| --- | --- |
| NONE in stock | |
| Special order items so allow 2-3 weeks to receive once order is placed. Subject to availability | |
| Should you wish broad or broad stub stainless steel/chrome plated nibs for these pens, please see item "Standard #6 Stainless Steel/Chrome Plated Nibs" and purchase separately. | |
| Osprey Pens will drop ship any item to you that we may not currently have in stock. So, if you want something and it is not noted to be in stock, just email us at passion4pensinfo@yahoo.com with what and you want we will get it to you via Osprey Pens. | |