Waterman® Fountain Pen Ink Cartridges [8 per pack] "long cartridges"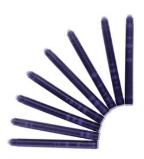 Click to enlarge image(s)
Fill your Waterman® pen with great ink from Waterman®. A variety of colors are available as well as convenient cartridges or bottled ink. These are proprietory ink cartridges designed to fit Waterman® fountain pens or other fountain pens that take a "long" or "magnum" cartridge. Packaged 8 cartridges per box.

As a certified retailer for Waterman® I am able to only list their products at their recommend MSRP. Other certified retailers of this manufacturer are given the exact same guidelines. Should you see prices under the MSRP, I would caution you as to whether or not you are receiving an item from a certified retailer of this manufacturer. Purchasing items from non-certified retailers may invalidated your guarantee. However, only the manufacturer can address that issue with certainly. Remember buying below MSRP may not actually represent a "savings".
| | |
| --- | --- |
| length: | 2 13/16" [7.2 mm] |
| cartridge size: | long cartridge |
| cartridges per box: | eight [8] per box |
| will fit: | any pen taking a refill of this length |
| | |
| --- | --- |
| In stock: EIGHT Intense Black; ONE Mysterious Blue....will NOT be ordering any more nor any different colors. | |
| Will fit any pen that takes "long cartridges". Also check out MonteVerde® "magnum" or "long" ink cartridges | |
| Any fountain pen that takes a "long" or "magnum" ink cartridge will take a standard international ink cartridge as well. | |